When it comes to houseplants, usually people view them as nothing more than decorations that can bring some greenery into the house. Indeed, usually house plants just sit there and look pretty, but there are some fruit trees that you can keep inside and even get a harvestable yield from!
Most fruit trees are difficult or impossible to get fruit from indoors. This is because fruiting takes an enormous amount of energy from a plant. After all, the plant must make a lot of sugar through photosynthesis, which has 2 needs: carbon dioxide and light. There is plenty of CO2 in the atmosphere, but light can easily be a limiting factor.
Because light can be so limiting for indoor fruit trees, it's not a bad idea to take them out during the summer, but it is not necessary, strictly speaking. Either way, you basically have to have these trees with southern exposure for as much sun as possible. This is imperative to get good fruit coming from your tree.
Banana 'Super Dwarf Cavendish'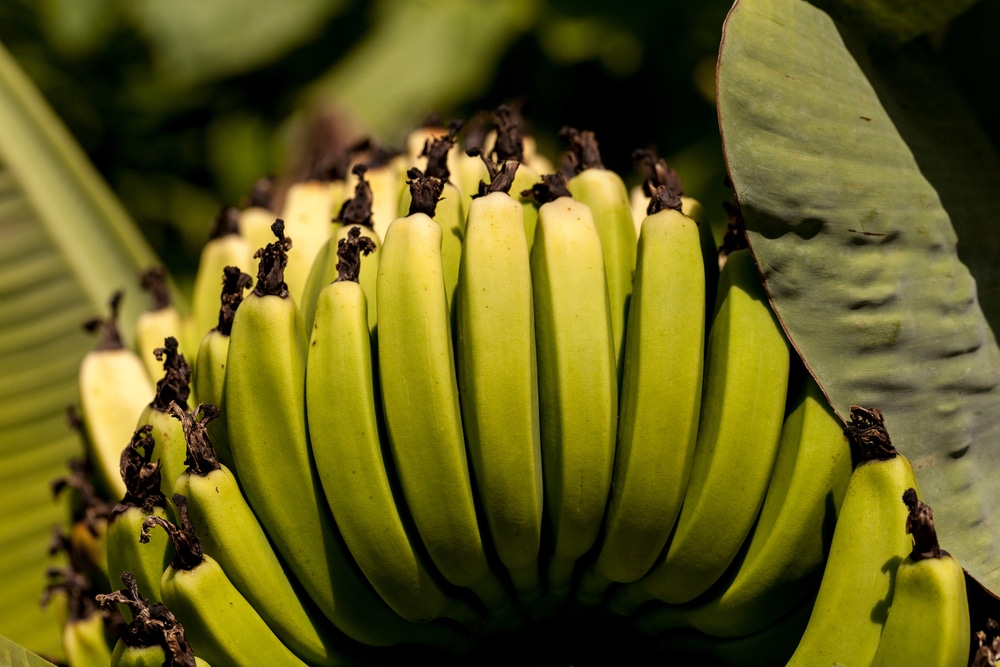 That's right, you can grow bananas in your home. The super dwarf variety grows smaller than the typical Cavendish variety, both in fruit size and tree size. Fortunately this means you can keep these petite trees in your home, but unfortunately it means the actual bananas you get will be slightly smaller than what you can buy in a grocery store, but nothing can beat the pride of knowing you grew the very banana you're eating.
Soil
Banana trees require a lot of fertilizer and watering, after all they are from the rain forest. They also require a rich, hummus-based potting soil that doesn't dry out.
Light
These trees need ample light, about 12 hours a day. A southern window is a must when it comes to growing banana trees!
Humidity
These trees are not too fussy when it comes to humidity, as long as it is moderately high. As long as the humidity stays above about 50% you should be okay, otherwise you risk the leaves getting burned and scorched from the dry air and sun.
Harvesting the fruit
These plants have easy to harvest fruit, and bananas often grow one after the other. These plants are self pollinating and won't require any effort from you to bear fruit. The trees will flower in spring and early summer, and you should have edible fruit anywhere from 3-6 months.
Australian Red Lime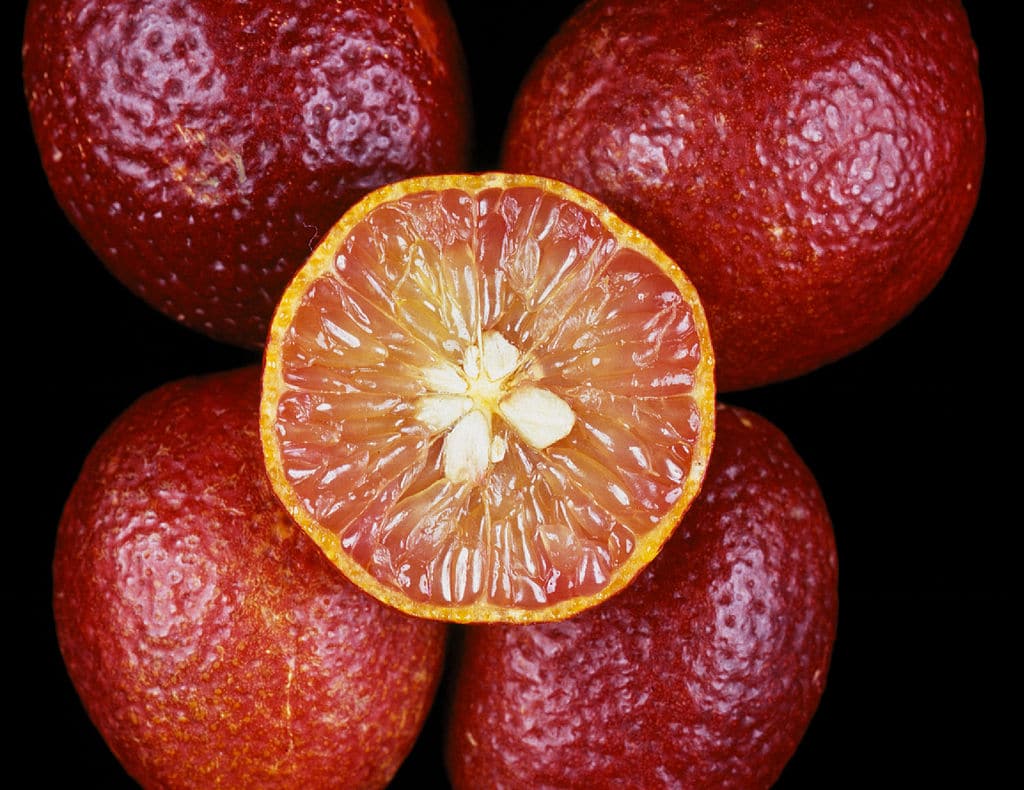 Australian red limes are a dwarf variety of the Citrus genus which makes deep red burgundy fruits about 2" long. The plant itself only grows to about 1' in height and would be perfect for a south facing bay window, especially if you fancy yourself a rare plant collector. When trimming, just be careful of the small thorns! If the thorns bother you though, you can remove them at no damage to the plant.
Soil
A chunky citrus mix, similar to what you would use for a succulent, works well for citrus plants. These plants like to be a little dried out in between waterings, and using a clay pot would help with this! These plants also like to be slightly under potted, which helps develop stronger roots. Decrease watering in the winter when there is less light.
Light
These plants would need full sun, so a southern window with all day sun is the minimum. If you are concerned your Australian Red Lime tree isn't getting enough light then you can supplement the natural light with artificial lights from grow lights.
Humidity
Although citrus trees are generally hardy plants, they do prefer an environment with over 50% humidity. Effectively what this means is as long as your house doesn't feel dry, your Australian Red Lime will be okay. That being said though, if you live in the north where indoor humidities can be as low as 5-15%, you may want to purchase a humidifier.
Harvesting the fruit
These gorgeous little plants bloom in the spring and then if you're lucky you can harvest the fruit in about 4 months after lots of fertilizing. Citrus trees are very nitrogen hungry so be sure to fertilize readily, especially when blooming and fruiting.
Fig 'Petite Negra' (Ficus carica)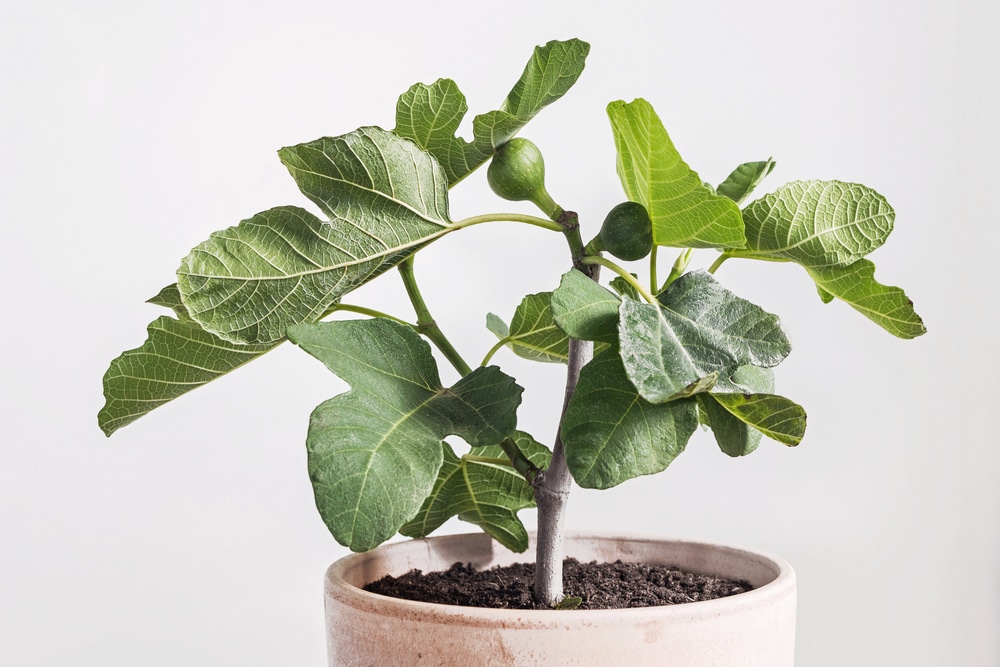 Many people who grew up with a grandpa with a fig tree will have fond memories of harvesting figs and less than fond memories of harvesting figs only to find they are filled with wasps! Luckily for us, the Petite Negra variety of fig grows to less than three feet tall and can bloom and fruit indoors, and as long as you don't keep wasps in your house you shouldn't have to worry about a stingy surprise in any of your figs.
Soil
Figs prefer loamy soil that is kept moist, but not soaked. The soil should never fully dry, but can be allowed to partially dry in the winter when the figs aren't as worried about their leaves and fruits.
Light
About 8 hours of full southern exposure will do for these petite little figs. In the winter they do not need any light as this is when they can enter dormancy and may drop their leaves. Once spring begins give it as much light as possible because it will soon be blooming!
Humidity
Figs are naturally jungle plants and so need high humidity. Although they can tolerate low humidity they should be misted regularly to make sure the leaves do not dry and drop prematurely.
Harvesting the fruit
These petite fruits will begin showing when the tree is less than twelve inches tall and generally come out in the beginning of fall or late summer, just like outdoor fig varieties. It is important to note that only new growth will fruit on fig trees, so if you want the most fruit as possible it is important to prune heavily in the winter so you can maximize the new growth and thus the fruit come the next growing season.
Olives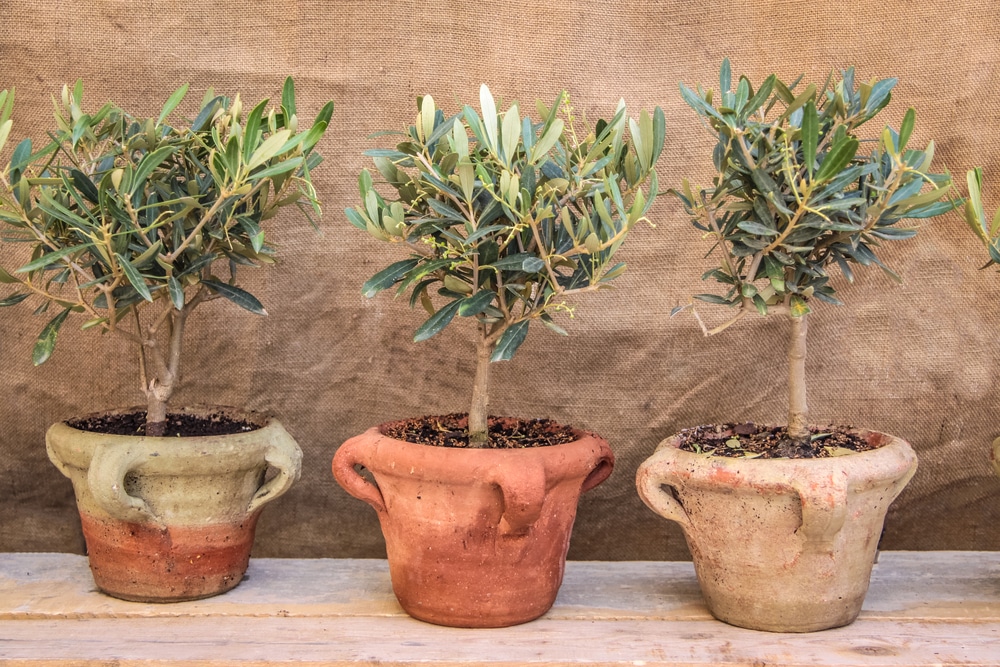 Fun fact: Olives are biologically a fruit, even though they are classified as a vegetable when you look at them nutritionally. To make that even more of a fun fact, you can grow these little Italian delights in your own house. For house growing, you're going to want to opt for a dwarf variety, like Arbequina olives.
Soil
You want soil that can dry out visually in between waterings, so you're going to want a chunkier soil with good drainage in a clay pot. You also want to make sure the roots have plenty of room to grow, so a large. They're moderate feeders so super heavy fertilization isn't needed, but they still need some.
Light
Olives are from warm mediterranean regions with ample light, so you'll need to replicate that in your home. You should give them as much light as possible, but they do not need quite as much as say a lime, so you can get away with slightly less if you need to.
Humidity
If you live in regions where your humidity will randomly fluctuate wildly by over 5% in a matter of days then this is the plant for you. Olives are not fussy at all when it comes to humidity.
Harvesting the fruit
Olives need a few nights of consistent 30-45 degrees with ample sun in the day in order to flower. Although this might be a pain, the upside is this plant will also flower when less than a foot tall.
Barbados Cherry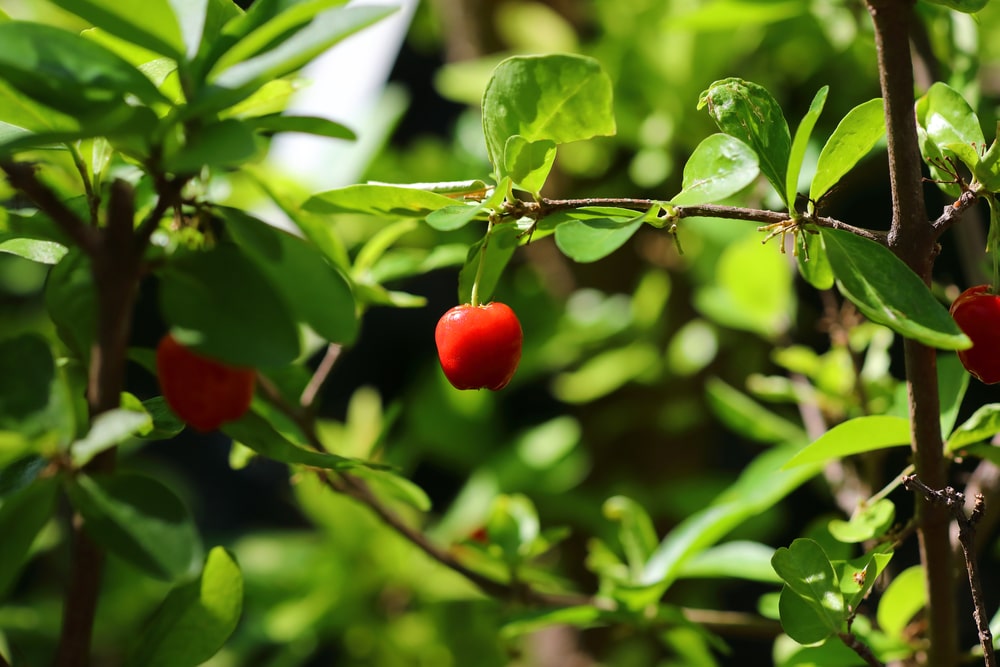 Also called Acerola, Barbados Cherries are sweet little fruits jam packed with vitamin C. Although the fruit hold better in the heat of the summer, you can still grow them indoors! If you want a unique fruit this might just be the one for you.
Soil
Most potting soils will do, as long as it is neither too dry nortoo wet. Ideally you would grow these in a clay pot and allow for visual drying in between waterings, like many other fruits on this list.
Light
Say it with me now: full sun with southern exposure! Yes, these fruits also appreciate the sun beating down on them from a southern window. Additionally, these really should not get below 50 degrees, but it can tolerate slightly above freezing if it is for a short period of time.
Humidity
Although they prefer higher humidity (above 50% or so), Barbados Cherries can tolerate lower ends of the humidity spectrum just fine as long as it is not permanent.
Harvesting the fruit
Make sure to fertilize weekly during the summer months and intermittently in the winter to ensure stable frits. These plants have no set season when they flower and fruit so you could potentially harvest cherries year round.
Dwarf Mulberry 'Dwarf Everbearing'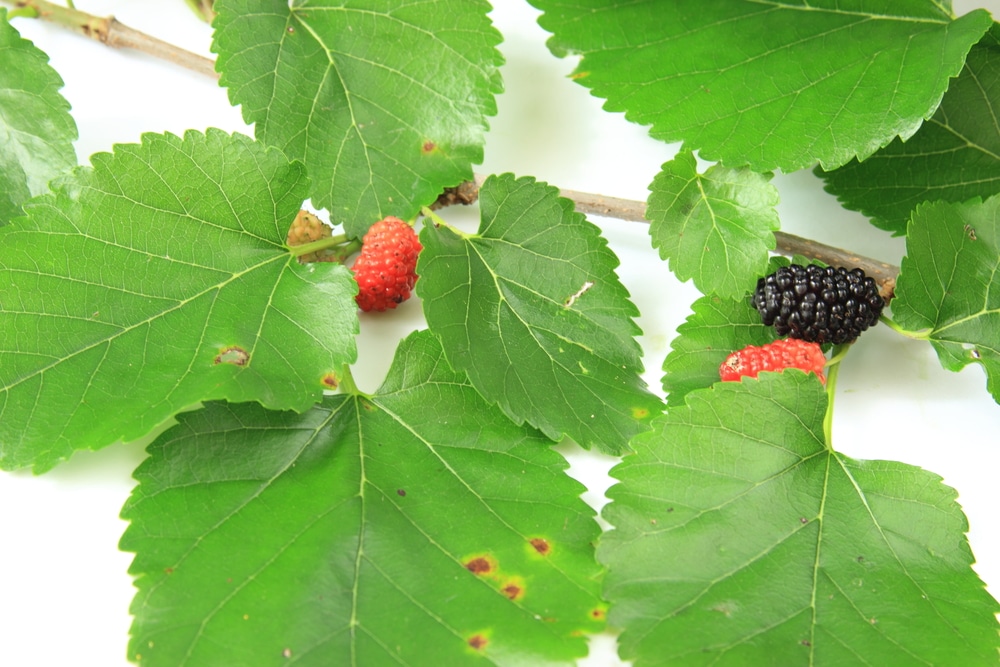 Yes, they may be uncommon but they shouldn't be! Mulberries have immune boosting benefits, and this variety is everbearing which means it can bear fruit throughout out the entire year for plenty of berries almost whenever you want them.
Soil
A normal potting mix will do just fine for a mulberry bush, as long as you allow it to dry visually in between waterings (sound familiar?). These are very heavy feeders when they are hot and in full sun, so if you have them in these kinds of habitats then you should make sure to feed you mulberry heavily.
Light
Generally these plants benefit from full southern sun, but it is not as needed for these plants compared to others.These are forest floor plants naturally so intermittent full sun will be more than adequate.
Humidity
Although very hardy, mulberry trees prefer to be on the higher end of the humidity spectrum, but they will tolerate lower if that's what you have to offer it.
Harvesting the fruit
These everbearing varieties of fruits tend to only fruit on new growth, so it is important that you prune back your dwarf mulberry in order to get more of its delicious fruits.
Avocados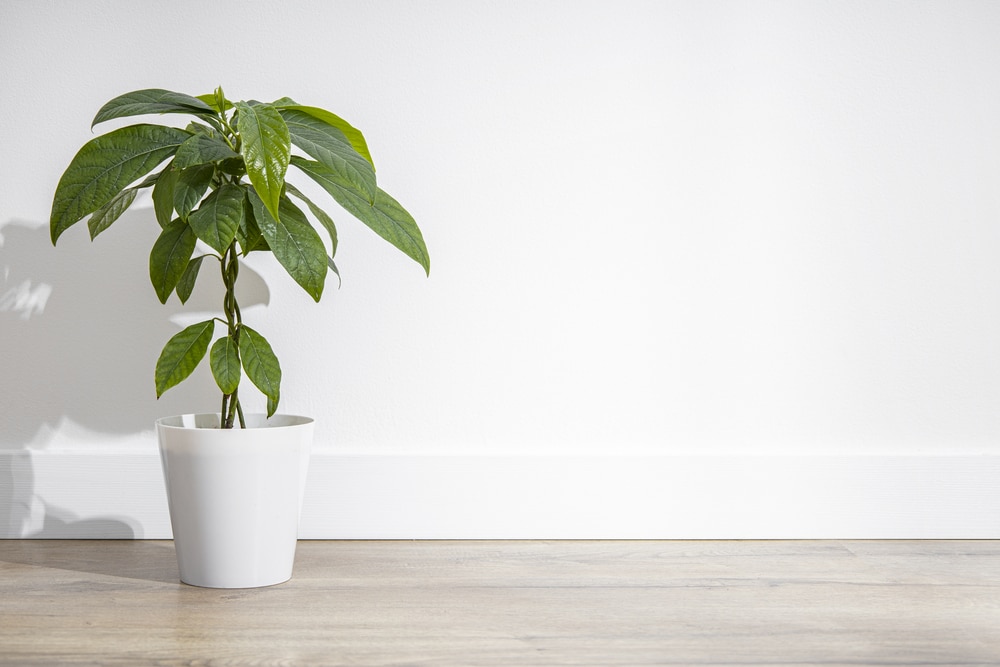 One of the most fun plants to grow on this list, avocados might not fruit for you indoors but that doesn't mean you shouldn't grow them because they can be very rewarding just to experience!
Soil
Avocados are very tolerant of many soil types, and you can even grow them in just water when they are just starting out! As long as the soil you have your avocado planted in doesn't completely dry out, it should be a-okay.
Light
Avocados really need a lot of light, like almost more than you can provide indoors. You can keep them in just window light but their growth may become leggy without enough.
Humidity
What else do avocados like a lot of, ther than light? Humidity! Avocados need high humidity in order to make sure their leaves don't dry up.
Harvesting the fruit
This is the saddest part of indoor avocado trees: it is very unlikely that you will be able to get fruit out of your indoor avocado trees. They need to be very mature to produce fuit, and many people cannot adequate provide what they need for this in the average home.
Coffee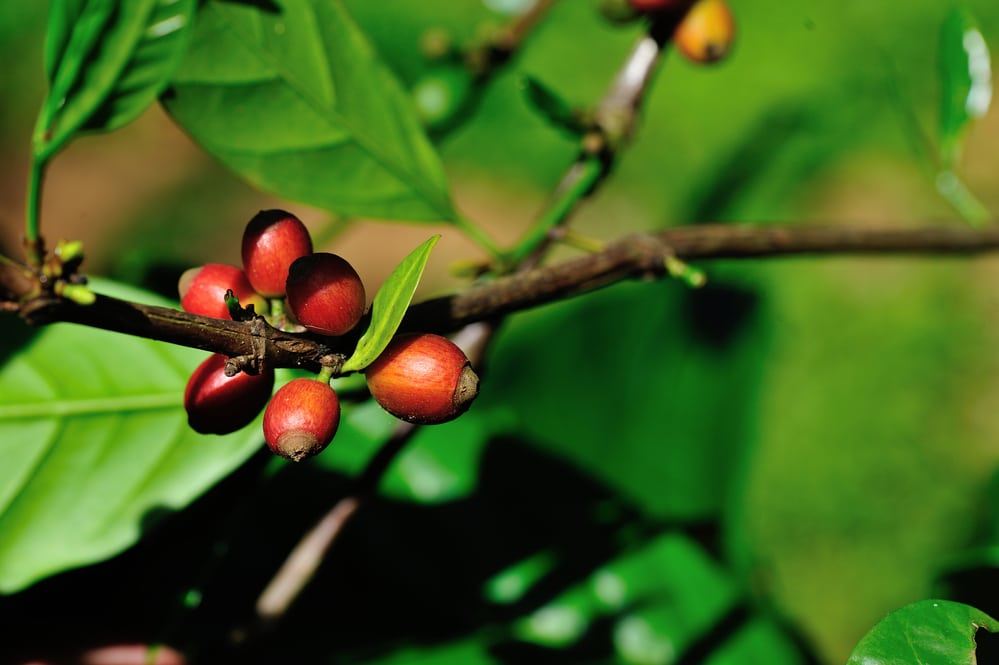 Another plant you might not have known is a fruit: coffee! Technically the coffee plant produces cherries which are then processed to make your morning cup of Joe.
Soil
Although not a heavy feed, you should still feed coffee plants every 2 week or so. Any old potting mix will do, as long as the surface can dry out in between waterings.
Light
As much light as possible is needed to bring the best fruits to these trees, and you may want to consider just planting this plant as just a foliage plant if you can't provide full southern sun. That being said, coffee trees are an ideal floor plant by a southern window.
Humidity
As with most plants on this list, coffee plants like high humidity but don't absolutely need it. They will be happy in whatever your ambient humidity may be.
Harvesting the fruit
Indoor coffee plants will bloom in warm and bright conditions and the fruits of the flowers are not far behind!
"Moorpark" Apricots
Most apricots are usually consumed dried, but you can have them fresh off the tree if you grow them yourself! You could even try making it into a jelly or preserve to enjoy on your morning toast. The Moorpark variety is a dwarf variety that tops out at 6 feet or so tall, which is ideal as a houseplant.
Soil
Apricots should be in snug pots with good drainage, and you should fertilize regularly. Try to keep the soil moist, but if it drys a little bit from the top then your apricot won;t mind too much.
Light
Try for a south facing window, but a west facing window will work as well. To fruit these trees like ample light, but they don't need to be blasted with scorching sun unlike some plants on our list.
Humidity
Apricot trees are very adaptable when it comes to humidity, as long as you are comfortable your plant will be too!
Harvesting the fruit
Apricots will flower in the spring and fruit in the summer if provided with the right light cycle. Make sure to prune your apricot tree to encourage more fruits year after year.
Meyer Lemons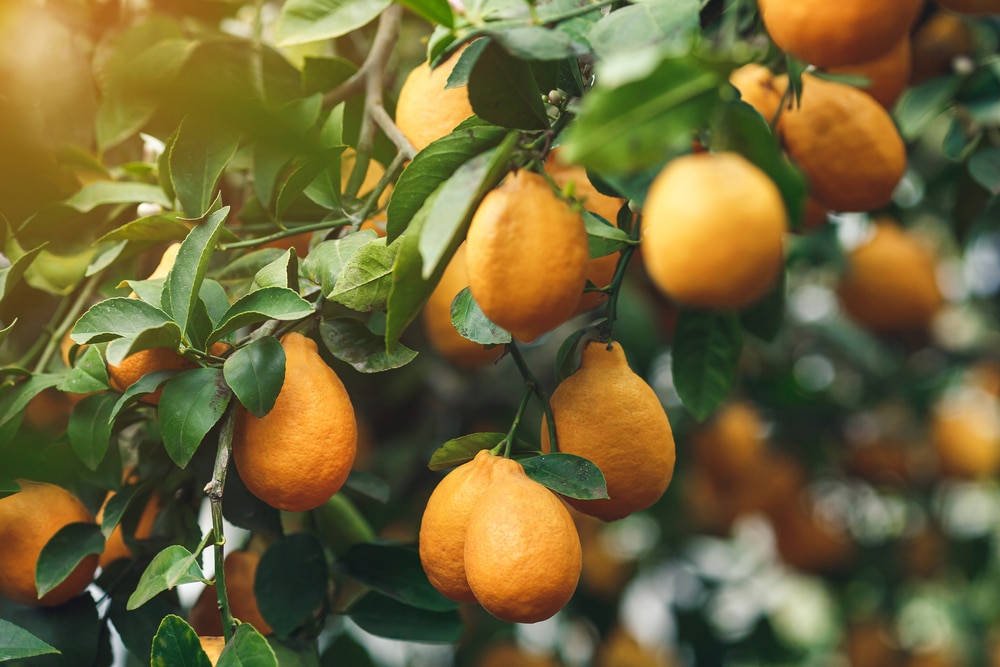 We started with a citrus and we'll end with a citrus. Meyer lemons are well known as one of the classic dwarf lemon tree varieties. These lemons will be more flavorful and sweeter than the lemons you can buy in store. So when life hands you lemons, make sure they're Meyer!
Soil
You can treat your lemon tree's soil much like you would a succulent. These should be potted in well draining soil, but you should water regularly. This makes sure these plants get ample water while also not succumbing to root rot.
Light
Much like limes, lemons love their sun! Afterall, they need to make big beautiful fruits and that takes a lot of energy. Lemon trees would benefit greatly from being placed outside in the heat of the summer to really get the best fruits possible.
Humidity
Even though they may prefer higher humidity, they definitely don't need it! Meyer Lemons can take a range of humidities, as long as it doesn't drop too low.
Harvesting the fruit
To get the best yield you should mimic Floridian weather: hot wet summers and mild dry winters. This will help to get flowers in the spring and fruits in the fall, and then all you need to do is make lemonade.